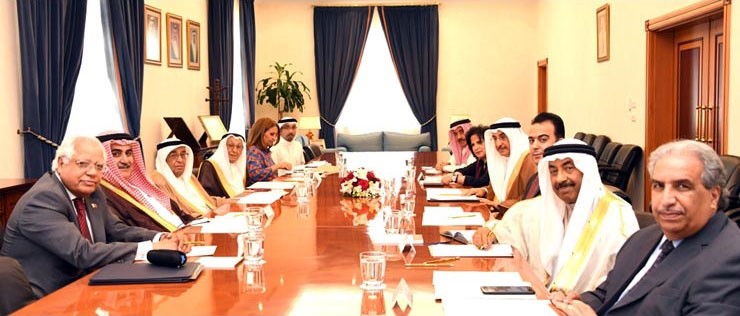 Manama, Sept. 12 (BNA): Deputy Prime Minister His Highness Shaikh Mohammed bin Mubarak Al Khalifa, the Chairman Board of Trustees of Isa Award for Service to Humanity, today chaired the fourth meeting of the award's fourth session.
The board reviewed various items included in its agenda, including preparations to host the second meeting of the Award's arbitration panel for the fourth session on October 5-6 in Manama which will assume reviewing the nominees for the award and will prepare a shortlist of potential winners.
The board meeting discussed the significant of attracting new nominees from around the world for the Award's next sessions. The board also discussed the difficult situation of forcibly displaced people in conflict-torn countries.
The meeting also discussed in detail the cooperation arrangements for the documentary film that narrates the life of the late Amir His Highness Shaikh Isa bin Salman Al Khalifa, with a contemporary artistic vision to demonstrate the tolerant spirt and accomplishments of the late Amir's who spent his whole lifetime in serving humanity.
The board also approved to participate in the Arab Awards Forum slated to be hosted by the King Faisal International Award in Riyadh to discuss cooperation between Arab Awards, their working mechanism, evaluation and arbitration criteria, announcement of winners, and deadlines for nominations.
Earlier, the King Faisal International Award had invited the secretary-general of Isa Award for Service to Humanity, to participate in the Arab Awards Forum in Riyadh.
I.Y
BNA 1059 GMT 2018/09/12