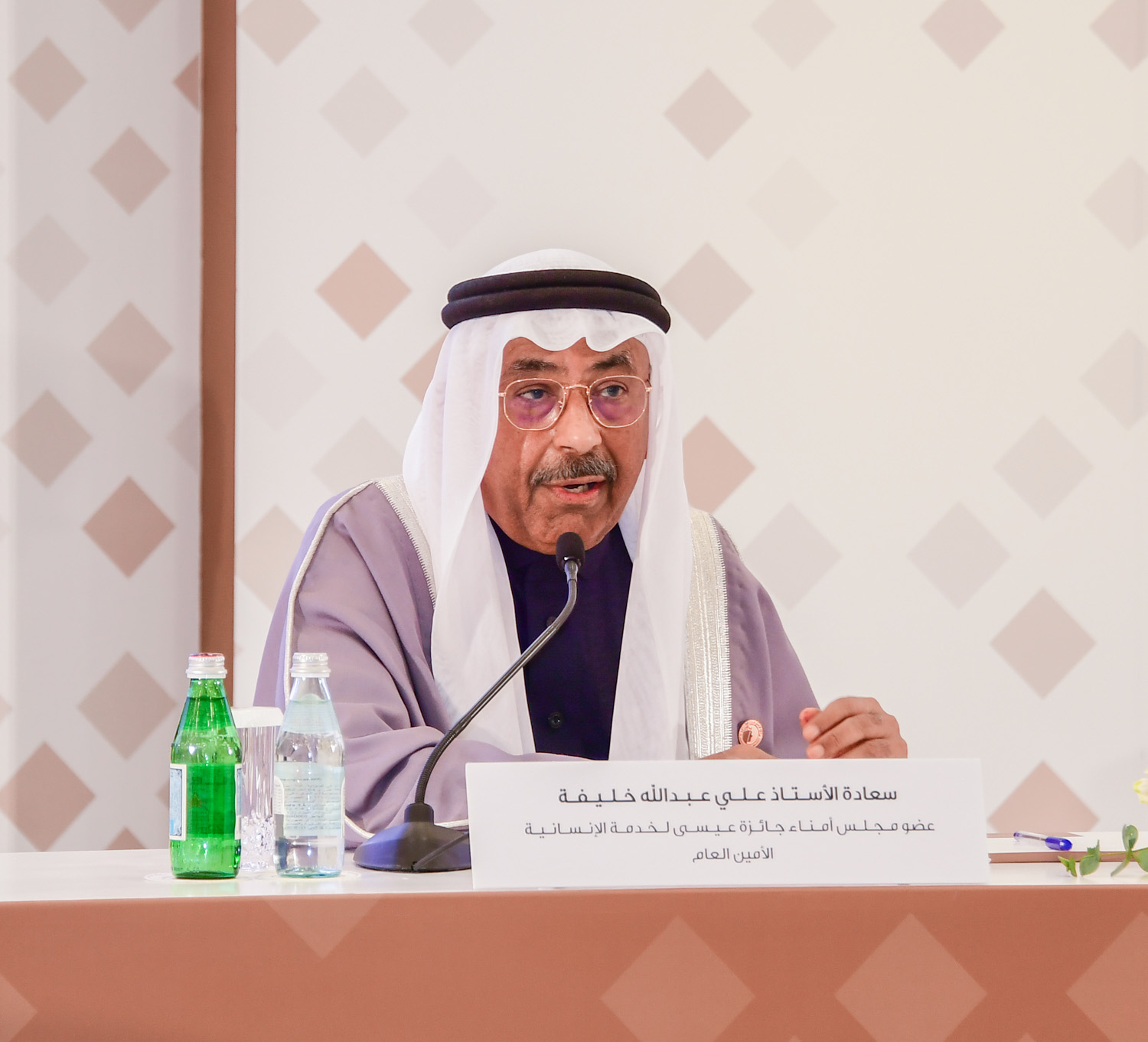 Dr Sanduk Ruit, the Nepalese ophthalmologist who won the Isa Award for Service to Humanity, had gained international acclaim for developing a novel approach to treating cataracts.
He also succeeded in creating a new implantable lens that could be produced at a much lower price than its counterparts, allowing him to complete cataract surgery in significantly less time.
Cataracts can be surgically removed through tiny incisions in as little as five minutes, and replaced with an inexpensive artificial lens.
By not charging his low-income patients, he was able to save the sight of almost 120,000 people who would have otherwise gone blind.
Isa Award for Service to Humanity Secretary-General Ali Abdullah Khalifa said that Dr. Ruit's contributions to the great humanitarian work earned him the special honour.
"The field research team started their trip at the Institute of Ophthalmology in Kathmandu and then went to the Hetauda Community Eye Hospital outside of the city," he said.
"There, they looked at the mobile field hospitals and met with Dr Ruit and his staff of doctors, nurses, and technicians.
The team also visited the operating rooms for lens implantation at both stationary and mobile hospitals in different rural and mountainous locations, where they spoke with patients about the intricacies of their situations and got their honest feedback."
Knowing that Dr Ruit had discovered the raw material for the lens, which enabled him to achieve the same efficacy as the more expensive lenses, and then having it manufactured locally was one of the tasks assigned to the field research team.
The team subsequently paid a visit to the medical centre and the Cornea Bank connected to the hospital, as well as to a centre for training local competencies.
The results of the fieldwork proved:
1. Dr Sanduk Ruit's foundation is an independent, non-profit organisation that operates independently of the Nepalese government.
2- Besides its cornea bank and its training centre, the medical institute also houses a lens manufacturing facility, making it one of a kind.
3- The innovative nature of Dr Ruit's medical and humanitarian efforts is diverse. He developed a cost-effective lens and came up with a new way to perform medical surgery that minimises collateral damage and shortens the recovery period. A review of the scientific literature shows that production costs are reduced, and lens quality is on par with that of developed countries.
4 To meet the demand for low-cost eyeglass lenses, Dr Ruit established a factory in his hometown. More than 350,000 lenses each year are manufactured there for use by people with cataracts. Whereas it costs $100 to make a single lens elsewhere, Dr Ruit's factory distributes them for $3 each.
According to peer-reviewed scientific research, the lenses produced at Dr Ruit's Institute are of equivalent quality to their more expensive counterparts in the developed world, and their low cost is the outcome of the refinement of production processes and procedures over more than 30 years.
5- Over the course of his 30-year career, Dr Ruit performed more than 50,000 eye surgeries and procedures at no charge to those who otherwise could not afford them.
6- The institute has two hospitals and 16 field medical centres located all over Nepal, staffed by a total of at least 30 resident physicians who perform eye surgeries and treat patients.
7- Ophthalmologists from the United States, Africa, and many Asian countries are among those trained at the institute.
8- Over the past few years, Dr Ruit has led a team of ophthalmologists on a mission to several Asian and African countries, where they have treated the eyes of thousands of underprivileged patients and trained local doctors how to undertake the groundbreaking procedures they have developed.
9- The institute is able to cover its costs in a sustainable manner because of its three-tiered patient support system:
Delivering free medical care to the needy and underprivileged
Providing subsidies to those with limited means
limiting the use of all-inclusive pricing to those who can afford it.
So, the operating costs of the institute and the salaries of a large number of people can be paid for in full.
10- Over the course of his 30-year career, Dr Ruit's revolutionary surgical technique has helped cut the rate of preventable blindness in Nepal by nearly half.
More than 650 doctors from all over the world have been trained by him to follow in his footsteps, and he has taught them everything he has mastered in his fight against preventable blindness in order to ensure that more than 35 million surgeries have been conducted so far.
11- Dr Ruit Centre provides ophthalmic care to patients in Nepal in two hospitals and 16 clinics, staffed by around 30 doctors. There are medical professionals from all over the world, including the United States, Africa, and several Asian countries.
On average, the institution completes around 6,000 procedures each year. Success with mobile hospitals has led to expertise sharing with countries including Bhutan, Thailand, Myanmar, Mongolia, Pakistan, North Korea, Ethiopia, Bangladesh, China, and India.
"In light of the above, the Board of Trustees considered the findings of the field research team's visits and decided that Dr Sanduk Ruit's work is worthy of the Isa Award for Service to Humanity in its fifth session," Ali Abdullah Khalifa said.
"The decision is based on the originality of his efforts and his success, which is closer to the spirit of the criteria specified for presenting the award than the works of the other nominees."