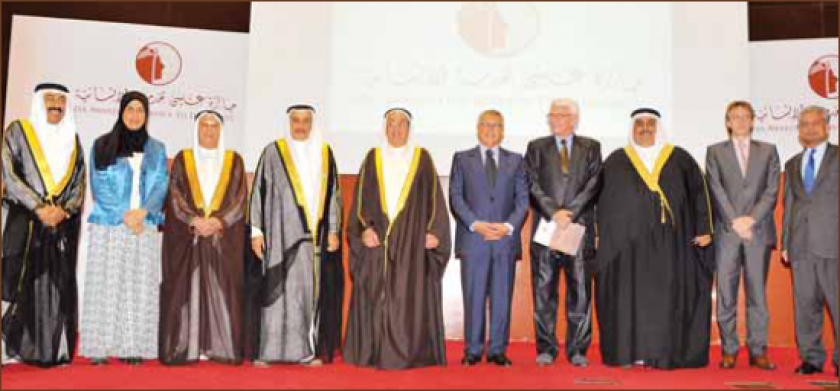 In the speech given by H.H. Shaikh Mohammed bin Mubarak Al-Khalifa, Deputy Prime Minister and Chairman of Board of Trustees of Isa Award for Services to Humanity, H.H. paid a posthumous tribute to the late Shaikh Isa bin Salman Al-Khalifa, hailing the key achievements in his era.
H.H. was speaking during the grand ceremony which took place in Isa Cultural Centre and which  launched the logo of the Isa Award For Service to Humanity, that was established by His Majesty King Hamad bin Isa Al-Khalifa to commemorate the late Shaikh for his human traits and leadership stature.
"The unveiling of the logo signals the start of a campaign aimed at promoting the award worldwide", H.H. said. A website will be launched and a series of events would be held worldwide, in addition to contacting the humanity service centres and establishments in all over the world in a bid to attract more nominations for the Award and to open wider horizons to discover distinguished projects, achievements and initiatives in the field of humanity service. H.H. added that working on the Award will not stop at this limit, and the research and discovery will go on to reach every single person who deserves the Award, exactly like the owner of the Award who had never stopped giving.
The unveiling of the logo comes after the invitation of the Board of Trustees of the Award to all of the artists in Bahrain to participate in the competition of designing a logo which reflects the humanitarian aspects of the late Shaikh. The Board of Trustees received more than (189) designs from (70) fine artists and those designs were presented to a committee consisted of experts inside and outside Bahrain and the winning logo was designed by the fine artists Abdulla Yusuf who was honoured in the Ceremony for the creativity of his logo which reflects the personality of the late Shaikh and his human relations with everyone. An exhibition showcasing innovative logos was also held, including a collection of portraits depicting the late Shaikh, his life and era which was a distinguished era in Bahrain's modern history. The Isa Award for Service to Humanity nomination committee held a meeting chaired by Professor Jan Paulsson to discuss nominating outstanding Arab and international institutions and prominent figures to vie for the prize.